The Ryzen 7 2700X is one of AMD's high-end Desktop processors. It was released in 2018 with 8 cores and 16 threads. With base clock at 3.7GHz, max speed at 4.3GHz, and a 105W power rating. The Ryzen 7 2700X is based on the Pinnacle Ridge 12nm family and is part of the Ryzen 7 series.
Ryzen 7 2700X is also the successor of AMD's last gen Ryzen 7 1700X processor that was based on the Zen and 14nm process and was released in 2017.
The AMD Ryzen 7 2700X marks yet another blast from Team AMD, ramping up the intensity of the AMD vs Intel processor war. Still, though, there's more than just core counts when it comes to a mainstream processor, as single-core performance needs to be on point, especially if you're hoping to play the best PC games.
Now, we're asking ourselves whether or not the AMD Ryzen 7 2700X finally dethrones the Core i7-8700K as the de facto ruler of the mainstream processors. Ultimately, it depends: the Ryzen 7 2700X doesn't reach the same single-core performance as Intel, but we're starting to see more games adopt multi-threaded CPUs, so that doesn't matter as much.
AMD Ryzen 7 2nd Generation, and the Zen+ architecture itself, is notable because it leads 12nm processors to the mainstream for the first time. But, there's a lot more going on under the hood than just a smaller manufacturing node.
Increased IPC improvements, along with the massive turbo boost of 4.3GHz mean that even in single core performance – long a weak link of AMD's processors – comes within reaching distance of rival chips.
Unfortunately, this doesn't quite translate to as strong of a single-core performance, even if AMD is closer than it's ever been to matching Intel core for core. In our single-core GeekBench and Cinebench tests, the Ryzen 7 2700X scored a 4850 and 177, respectively. This is definitely a huge leap over the Ryzen 7 1700X, but it's slower than the Core i7-8700K, which scored a 5330 and 208 in the same tests. But, that's still not a huge difference, so the multi-core gains generally outweigh them.
Over the last couple years, AMD has been reaching for dominance in the desktop CPU world, and with the AMD Ryzen 7 2700X, it's finally there.
AMD's Zen+ series has landed, upping the ante with Intel in its high-stakes game for desktop PC market dominance with a well-rounded lineup of new chips that push mainstream platforms to higher core counts and more raw compute than we've ever seen. As a result, Intel's commanding presence in the enthusiast space is threatened in a way we haven't seen in over a decade.
The Ryzen 7 2700X takes the basic ingredients of the Zen+ microarchitecture, which brings an average of 15% more instructions per cycle (IPC) throughput, and 12nm process and melds them into a high-performance chip that is impressive across our test suite, especially when we factor in the competitive pricing, backward compatibility with most AM4 socket motherboards, unlocked overclocking features, and bundled cooler.
As we've seen, gaming remains an advantage for Intel, so if squeezing out every last frame is all you care about, Intel's processors are a good choice. Much of that performance advantage will be less noticeable when gaming at higher resolutions, or if you pair the processors with a lesser graphics card.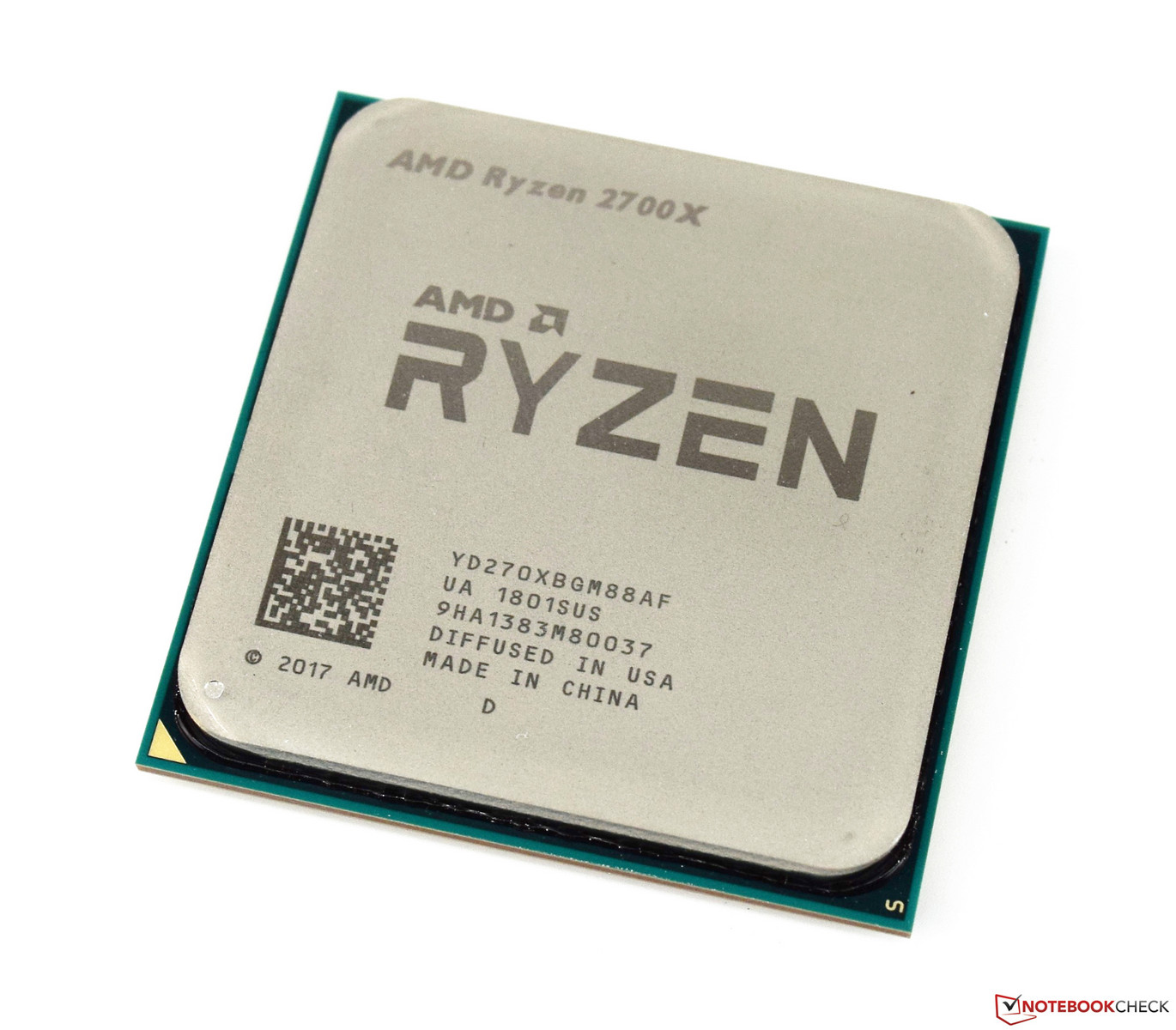 Out of the box, the Ryzen 7 2700X is a better all-arounder than the Core i7-8700K and offers incrementally higher performance than its downstream counterpart. The bundled cooler reduces platform costs, and a wide array of motherboards offers plenty of choices for builders.
AMD Ryzen 7 2 Generation is finally here, and the AMD Ryzen 7 2700X might just be the poster child for what this generation of processors has in store for consumers. Sure, it might have stuck with the 8-core, 16-thread setup, which it inherited from its predecessor, the Ryzen 7 1700X. However, with the new 12nm manufacturing process, it delivers a far better performance at lower power consumption.
This decision to 12nm has brought a beefy 15% boost to IPC (instructions per clock) performance. Effectively, compared to a Ryzen 7 1-Generation processor at the same clock speed, you will get a straight 15% increase in performance. That's not big enough to be evident in day-to-day workloads, but it does still mean something.
What this all means is that the AMD Ryzen 7 2700X is an absolute beast when it comes to multi-threaded workloads, especially at this price point. If you're counting on doing some video editing or compiling one hell of an Excel spreadsheet, you're going to see firsthand a performance boost with the Ryzen 7 2700X.
AMD has been having some trouble as of late which has made it even harder to compete with the incoming wave of Core i7 processors. That has forced the chip maker to be a little more creative and make do with their current product lines. Today we have the AMD Ryzen 7 2700X on hand, which in itself isn't anything new. It's basically a refreshed Ryzen 7 1700X with a clock speed boost. We say basically because it's not a straight refresh however, there's another change.
Today we'll be taking a closer look at the AMD Ryzen 7 2700X 8-core desktop processor that was released in Apr 2018. AMD offers the Ryzen 7 2700X without integrated graphics. It runs $329 shipped and is ideal for those that plan on using it a system with a dedicated graphics card.
One of the nice things about the AMD Ryzen 7 2700X processors is that the retail boxed models come with a CPU cooler. So, you can pick something like the AMD Ryzen 7 2700X up for $329 and don't need to spend any extra money on CPU cooling.
The AMD Ryzen 7 2700X retail boxed processor comes with the traditional 'pancake' CPU cooler. Nothing fancy, but it gets the job done on this processor which is rated at 105W TDP. You do not need to have an aftermarket cooling solution unless you want to.
The AMD Ryzen 7 2700X seems to be a decent performing chip that is readily available for $329 at your favorite retailer. The main competition for this processor is the Core i7-8700K 6-Core unlocked desktop processor with Intel UHD Graphics 630 graphics ($395 shipped).
Now the biggest question is can AMD's Ryzen 7 processor play games? The answer is simply yes as it got a respectable gaming score of 84% in our benchmarks.
Regardless of those external factors, the Ryzen 7 2700X proves it has the chops to be your main gaming system and a just as effective media creation platform – two things that are becoming intrinsically connected in this age of live-streaming, eSports and uploading gameplay videos.
The Ryzen 7 2700X clocks up to 4.3Ghz just as it promises on the box, and with AMD's software you can take one of the cores all the way up to 4.4GHz. However, don't expect to get much beyond that without seriously upgrading your cooling solution and manually tweaking voltages behind the operating system level.
There's a saying that two heads are better than one and, well, 8-cores are better than 6. The extra processing power of the Ryzen 7 2700X puts Intel's processors to shame, including both its closest competitor and a much higher-spec part.
That said, to squeeze out all the potential of this surprisingly potent high-end chip, you'll want (and need) to splurge on an enthusiast-grade X370, X470, X570 motherboard.
Fresh from a successful roll-out of mainstream Ryzen 7 CPUs, AMD's attack on Intel now extends down into the high-end with its Ryzen 7 2700X processors, which the company is making available as of Apr 2018.
Right out of the gate, Ryzen 7 should sell for $329, going up against Intel's almost-$395 Core i7-8700K. In threaded workloads, the 8-core Ryzen 7 should enjoy an advantage against Intel's 6-core models. Of course, AMD doesn't give you integrated graphics like Intel does, but for enthusiasts building cheap gaming PCs, it isn't much of a draw anyway.
Like all other Pinnacle Ridge chips, the Ryzen 7-series CPUs drop into any Socket AM4 motherboard. But most will find a home on boards equipped with the A320 chipset, which has provisions for overclocking and offers plenty of connectivity options. Unlike Intel, AMD plans to utilize its current socket until 2023, so upgrading to future models shouldn't require a new motherboard.
Below is a comparison of all graphics cards average FPS performance (using an average of 80+ games at ultra quality settings), combined with the AMD Ryzen 7 2700X.
| | | | | | |
| --- | --- | --- | --- | --- | --- |
| NVIDIA GeForce RTX 4090 24GB | $ 1,599 | $ 6.1 | 263.1 FPS | 251.9 FPS | 175.8 FPS |
| NVIDIA GeForce RTX 4080 Ti 20GB | $ 799 | $ 3.3 | 245.5 FPS | 235.1 FPS | 164.1 FPS |
| AMD Radeon RX 7900 XTX 24GB | $ 999 | $ 4.2 | 237.5 FPS | 223.2 FPS | 141.8 FPS |
| NVIDIA GeForce RTX 4080 16GB | $ 1,199 | $ 5.3 | 228 FPS | 218.2 FPS | 152.3 FPS |
| NVIDIA GeForce RTX 4070 Ti 12GB | $ 799 | $ 3.6 | 219.1 FPS | 209.6 FPS | 146.2 FPS |
| AMD Radeon RX 7900 XT 20GB | $ 899 | $ 4.2 | 215.9 FPS | 202.9 FPS | 128.7 FPS |
| NVIDIA GeForce RTX 3090 24GB | $ 1,499 | $ 7.3 | 205 FPS | 189.2 FPS | 124.3 FPS |
| AMD Radeon RX 6950 XT 16GB | $ 1,099 | $ 5.6 | 196.2 FPS | 184.4 FPS | 117 FPS |
| NVIDIA GeForce RTX 3090 Ti 24GB | $ 1,999 | $ 10.4 | 192.9 FPS | 184.6 FPS | 128.9 FPS |
| AMD Radeon RX 6900 XT 16GB | $ 999 | $ 5.2 | 192.1 FPS | 178.4 FPS | 115.2 FPS |
| AMD Radeon RX 6800 XT 16GB | $ 649 | $ 3.6 | 180.9 FPS | 168 FPS | 108.5 FPS |
| NVIDIA GeForce RTX 3080 Ti 20GB | $ 799 | $ 4.5 | 178.7 FPS | 168.2 FPS | 114.6 FPS |
| NVIDIA GeForce RTX 3080 10GB | $ 699 | $ 3.9 | 178.6 FPS | 164.9 FPS | 108.3 FPS |
| NVIDIA GeForce RTX 4070 12GB | $ 599 | $ 3.5 | 172.5 FPS | 160.9 FPS | 110.9 FPS |
| NVIDIA GeForce RTX 3070 Ti 10GB | $ 599 | $ 3.9 | 153.2 FPS | 142.6 FPS | 95.4 FPS |
| AMD Radeon RX 6800 16GB | $ 579 | $ 4 | 143.3 FPS | 133 FPS | 85.9 FPS |
| NVIDIA GeForce RTX 3070 8GB | $ 499 | $ 3.7 | 136.6 FPS | 126.2 FPS | 82.8 FPS |
| NVIDIA TITAN RTX 24GB | $ 2,499 | $ 19.9 | 125.5 FPS | 119.6 FPS | 79.1 FPS |
| NVIDIA GeForce RTX 2080 Ti 11GB | $ 1,299 | $ 10.6 | 122.1 FPS | 116.5 FPS | 76.9 FPS |
| AMD Radeon RX 6700 XT 12GB | $ 479 | $ 4 | 120.6 FPS | 112.8 FPS | 71.9 FPS |
| NVIDIA GeForce RTX 4060 Ti 8 GB 8GB | $ 399 | $ 3.4 | 118.6 FPS | 112.1 FPS | 75.9 FPS |
| NVIDIA GeForce RTX 3060 Ti 8GB | $ 399 | $ 3.6 | 111.9 FPS | 106.1 FPS | 71 FPS |
| NVIDIA GeForce RTX 2080 SUPER 8GB | $ 699 | $ 6.3 | 110.8 FPS | 104.6 FPS | 68.8 FPS |
| AMD Radeon RX 6650 XT 8GB | $ 399 | $ 3.7 | 106.9 FPS | 100.5 FPS | 65.2 FPS |
| NVIDIA TITAN V 12GB | $ 2,999 | $ 28.2 | 106.3 FPS | 101.3 FPS | 68.3 FPS |
| NVIDIA GeForce RTX 4060 8GB | $ 299 | $ 2.8 | 106.2 FPS | 100.9 FPS | 68.3 FPS |
| AMD Radeon RX 7600 8GB | $ 269 | $ 2.5 | 106.1 FPS | 99.8 FPS | 64.6 FPS |
| NVIDIA GeForce RTX 2080 8GB | $ 699 | $ 6.7 | 104.8 FPS | 97.9 FPS | 63.8 FPS |
| AMD Radeon RX 6600 XT 8GB | $ 379 | $ 3.8 | 100.3 FPS | 93.8 FPS | 60.6 FPS |
| NVIDIA GeForce GTX 1080 Ti 11GB | $ 759 | $ 7.7 | 98.2 FPS | 93.4 FPS | 61.4 FPS |
| NVIDIA GeForce RTX 2070 SUPER 8GB | $ 499 | $ 5.1 | 97.6 FPS | 90.1 FPS | 59.1 FPS |
| AMD Radeon VII 16GB | $ 699 | $ 7.3 | 96.3 FPS | 89.5 FPS | 57.8 FPS |
| NVIDIA TITAN Xp 12GB | $ 1,199 | $ 12.5 | 96.3 FPS | 90.1 FPS | 60.6 FPS |
| AMD Radeon RX 5700 XT 8GB | $ 399 | $ 4.3 | 93.8 FPS | 87.1 FPS | 56.2 FPS |
| NVIDIA GeForce RTX 2070 8GB | $ 499 | $ 5.4 | 92.5 FPS | 84.2 FPS | 56 FPS |
| NVIDIA GeForce RTX 4050 8GB | $ 200 | $ 2.2 | 92.5 FPS | 87.1 FPS | 58.9 FPS |
| NVIDIA GeForce RTX 3060 12GB | $ 329 | $ 3.6 | 91.8 FPS | 85 FPS | 56.4 FPS |
| NVIDIA GeForce RTX 2060 SUPER 8GB | $ 400 | $ 4.6 | 87.6 FPS | 78.4 FPS | 51.2 FPS |
| AMD Radeon RX 5700 8GB | $ 349 | $ 4.1 | 85.9 FPS | 79.9 FPS | 51.5 FPS |
| NVIDIA GeForce GTX 1080 8GB | $ 499 | $ 6 | 83.4 FPS | 76.4 FPS | 49.4 FPS |
| NVIDIA GeForce RTX 2060 6GB | $ 350 | $ 4.2 | 82.4 FPS | 72.1 FPS | 46.2 FPS |
| AMD Radeon RX 5600 XT 6GB | $ 279 | $ 3.4 | 81.1 FPS | 74.7 FPS | 48 FPS |
| AMD Radeon R9 295X2 4GB | $ 1,499 | $ 19.2 | 78.2 FPS | 70.5 FPS | 48.5 FPS |
| AMD Radeon RX Vega 64 8GB | $ 499 | $ 6.4 | 78 FPS | 72.5 FPS | 46.6 FPS |
| NVIDIA GeForce GTX 1070 Ti 8GB | $ 409 | $ 5.3 | 77.3 FPS | 70.7 FPS | 45.6 FPS |
| NVIDIA GeForce RTX 3050 Ti 6GB | $ 249 | $ 3.3 | 75.6 FPS | 68.7 FPS | 45.1 FPS |
| NVIDIA GeForce GTX TITAN X 12GB | $ 999 | $ 13.3 | 75.1 FPS | 67.9 FPS | 43.9 FPS |
| NVIDIA GeForce GTX 1660 Ti 6GB | $ 279 | $ 3.8 | 73.5 FPS | 67.3 FPS | 43.4 FPS |
| AMD Radeon RX Vega 56 8GB | $ 399 | $ 5.5 | 73.1 FPS | 67.8 FPS | 43.7 FPS |
| NVIDIA GeForce GTX 1070 8GB | $ 399 | $ 5.6 | 71.2 FPS | 64.5 FPS | 41.3 FPS |
| NVIDIA GeForce GTX 1660 SUPER 6GB | $ 229 | $ 3.3 | 69.3 FPS | 63.5 FPS | 41 FPS |
| NVIDIA GeForce GTX 980 Ti 6GB | $ 649 | $ 9.9 | 65.4 FPS | 59.5 FPS | 38.4 FPS |
| NVIDIA GeForce GTX 1660 6GB | $ 220 | $ 3.4 | 65.2 FPS | 59.7 FPS | 38.5 FPS |
| AMD Radeon RX 590 8GB | $ 279 | $ 4.5 | 61.9 FPS | 55 FPS | 34.7 FPS |
| AMD Radeon R9 FURY X 4GB | $ 649 | $ 10.9 | 59.4 FPS | 56.6 FPS | 37.5 FPS |
| NVIDIA GeForce GTX 1650 SUPER 4GB | $ 160 | $ 2.8 | 56.8 FPS | 51.9 FPS | 33.4 FPS |
| AMD Radeon RX 5500 XT 8GB 8GB | $ 199 | $ 3.5 | 56.3 FPS | 50 FPS | 31.4 FPS |
| NVIDIA GeForce GTX 980 4GB | $ 549 | $ 9.8 | 56.1 FPS | 50.5 FPS | 32.8 FPS |
| AMD Radeon RX 580 8GB | $ 229 | $ 4.2 | 54.9 FPS | 48.7 FPS | 30.5 FPS |
| AMD Radeon R9 Nano 4GB | $ 649 | $ 12 | 54 FPS | 50.6 FPS | 33.3 FPS |
| NVIDIA GeForce GTX TITAN BLACK 6GB | $ 999 | $ 19.1 | 52.4 FPS | 46.8 FPS | 31.7 FPS |
| AMD Radeon R9 FURY 4GB | $ 549 | $ 10.7 | 51.1 FPS | 47.6 FPS | 30.9 FPS |
| NVIDIA GeForce GTX 1060 6GB 6GB | $ 254 | $ 5 | 50.9 FPS | 45.6 FPS | 29.4 FPS |
| AMD Radeon RX 5500 XT 4GB 4GB | $ 169 | $ 3.3 | 50.5 FPS | 44.9 FPS | 28.2 FPS |
| AMD Radeon R9 390X 8GB | $ 429 | $ 8.7 | 49.1 FPS | 45.7 FPS | 29.8 FPS |
| NVIDIA GeForce GTX 1060 3GB 3GB | $ 170 | $ 3.5 | 48.3 FPS | 43.4 FPS | 28 FPS |
| NVIDIA GeForce GTX 970 4GB | $ 329 | $ 6.9 | 47.5 FPS | 42.2 FPS | 28.3 FPS |
| AMD Radeon RX 480 8GB | $ 400 | $ 8.7 | 46.2 FPS | 42.5 FPS | 28.1 FPS |
| AMD Radeon R9 390 8GB | $ 329 | $ 7.2 | 45.9 FPS | 41.7 FPS | 25.6 FPS |
| AMD Radeon RX 570 4GB | $ 169 | $ 3.7 | 45.3 FPS | 41.1 FPS | 26 FPS |
| NVIDIA GeForce GTX 1650 4GB | $ 149 | $ 3.4 | 43.3 FPS | 39.3 FPS | 25.2 FPS |
| AMD Radeon RX 470 4GB | $ 179 | $ 4.4 | 40.4 FPS | 36.9 FPS | 23.7 FPS |
| AMD Radeon R9 380X 4GB | $ 229 | $ 6.7 | 34 FPS | 30.7 FPS | 20.2 FPS |
| AMD Radeon R9 285 2GB | $ 249 | $ 8.2 | 30.5 FPS | 27.6 FPS | 17.1 FPS |
| AMD Radeon R9 380 2GB | $ 199 | $ 6.6 | 30.3 FPS | 27.4 FPS | 17.1 FPS |
| NVIDIA GeForce GTX 1050 Ti 4GB | $ 169 | $ 5.7 | 29.9 FPS | 27.1 FPS | 17.4 FPS |
| AMD Radeon R9 280 3GB | $ 279 | $ 9.4 | 29.6 FPS | 27 FPS | 16.4 FPS |
| NVIDIA GeForce GTX 960 2GB | $ 199 | $ 6.8 | 29.2 FPS | 26.3 FPS | 16.7 FPS |
| NVIDIA GeForce GTX 1050 3GB | $ 169 | $ 6.7 | 25.4 FPS | 22.8 FPS | 14.5 FPS |
| AMD Radeon RX 560 4GB | $ 99 | $ 4.2 | 23.5 FPS | 20.9 FPS | 13.2 FPS |
| NVIDIA GeForce GTX 950 2GB | $ 159 | $ 6.9 | 23.1 FPS | 20.4 FPS | 13.4 FPS |
| AMD Radeon R7 370 2GB | $ 149 | $ 6.6 | 22.6 FPS | 19.2 FPS | 12.7 FPS |
| AMD Radeon R7 265 2GB | $ 149 | $ 6.6 | 22.5 FPS | 18.6 FPS | 12.3 FPS |
| AMD Radeon RX 460 4GB | $ 140 | $ 6.7 | 20.8 FPS | 18.5 FPS | 11.8 FPS |
| NVIDIA GeForce GTX 750 Ti 2GB | $ 149 | $ 7.5 | 20 FPS | 15.9 FPS | 10.6 FPS |
| AMD Radeon RX 550 2GB | $ 79 | $ 4.8 | 16.4 FPS | 14.7 FPS | 9.3 FPS |
| NVIDIA GeForce GT 1030 2GB | $ 79 | $ 5 | 15.7 FPS | 14 FPS | 8.5 FPS |